Taking Our Ecosystem to the Next Level – Interest from Largescale Investors   
You may remember in last week's AMA I hinted at some incredibly exciting news… Well, here it is!   
It's been a few weeks since we launched our comprehensive strategy outlining how we'll become the largest and safest crypto staking platform in the world by 2025. Unsurprisingly, this has attracted significant interest from large investors keen to explore how they can participate directly in our protocols and even more excitingly, provide investment to accelerate the development of our long-term vision.   
There's been particular interest in supporting the development of our staking platform, built on our own decentralized, fully immutable and transparent blockchain. We have a clear vision for this and are confident we'll be able to rival the major CEX's by leading the way in both user experience and transparency. Our platform will allow investors to verify their holdings directly on our own blockchain, providing full assurance over where their assets are held. We'll also break down barriers created by the lack of interoperability present in DeFi, allowing us to provide an experience that's as seamless as we've all become used to with leading banks and retailers. We know there's a huge gap in the market for a service of this nature – providing the safety and strong UI that's common place in Traditional Finance (TradFi), but with the incredible returns and full transparency that can only be achieved in crypto. 
We're actively progressing talks with these investors and expect to be able to share the specifics in the coming weeks. It is worth mentioning, though, that the scale of investment coupled with the commercial sensitivity of our plans does mean finalizing arrangements may take longer than we'd all ideally like! It's safe to say though that huge things are in the works and I've genuinely never been more excited about the future of PegHub and all its protocols!   
Last Chance to Get into SnowPegs Genesis Farms! 
You've got less than 14 hours to get into the SnowPegs Genesis farms.  Why should you take part in these farms?  How about some of the most insane 1-day yields you can get in DeFi.  People search far and wide for new projects to be able to enter Genesis Farms, but it's always a gamble if you don't DYOR and trust the devs.  That's why PegHub protocols, consistently launching onto new chains and offering new Genesis Farms, is the best place to invest your crypto!  It's also why the Bomb Evolution NFT's will be so valuable and continue to increase in demand.  With a limited supply of only 2,000, people will be bidding on OpenSea to try and get their hands on these NFT's just to earn in our Genesis Farms.   At 0.025 ETH, it's an absolute steal since anyone that's seen what happens at protocol launches knows what to expect, and it's much more than 0.025 ETH!    
Grab your Bomb Evolution NFT today and get ready to make some crypto in our farms!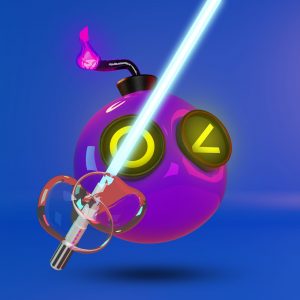 SnowPegs.com = Another Revenue Stream For PHUB! 
PHUB is our limited supply, revenue-sharing token. It benefits from automated buy backs that are then distributed to PHUB stakers, utilizing what was initially my dev allocation from our seigniorage protocols. I just wanted to remind everyone that this doesn't just apply for existing protocols – it includes all new protocols too! This means that with SnowPegs going live tomorrow, we'll add yet another revenue stream for buy backs! Remember, we have another 3 launches before the end of 2022 so this will only continue to increase. There'll only ever be 10,000 PHUB tokens so if you're bullish on the team and our roadmap you might want to consider building your PHUB bag! 
PegHub @ Web3 Blockchain World in Toronto 
We're excited to announce that PegHub will be live at the Web3 & Blockchain World event in Toronto on November 8 & 9.  Aaron and Markuu will be representing the team at a PegHub booth for both days, with Aaron also being featured in a speaking opportunity on day 1.  We're excited to showcase PegHub to an audience of serious blockchain enthusiasts, investors, and businesses.  The opportunities this presents us are countless, and this is just the beginning as we plan to attend at least one live event per quarter to continue to both spread brand awareness and garner interest for partnerships and private investments. 
If you're in the Toronto Area or want to take a trip to Canada, make sure you follow our socials as we have multiple passes to give away to the event, both live ($899 USD value) and virtual ($199 USD value)!  Come and meet the team and hang out! 
Introducing PegHub+ Advanced 
As we continue to expand the PegHub Ecosystem, the number of protocols that are a part of it may seem overwhelming and confusing to some.  As a result, we have decided to merge all of our seigniorage protocols under one brand called PegHub+ Advanced. 

Over the coming weeks you will notice improvements on all of our protocol pages to identify them as a PegHub+ Advanced page, namely a new universal header to help navigate between the different protocols. 
We will also be changing the name of the bitBomb Discord server to "PegHub+ Advanced", and it will include all current and future seigniorage protocols.  Furthermore, the CZPegs Telegram channel will be merging with the bitBOMB Telegram channel, which will also be renamed "PegHub+ Advanced". 
Finally, the bitBOMB Twitter channel will be rebranded to PegHub+ Advanced and will be the official channel for all news on any of our current and future seigniorage protocols. 
We believe this will help us focus our efforts in creating a strong and unified community as people with "advanced" questions about protocols such as peg status, boardrooms, share tokens, etc. can all gather in the same channel while not confusing the investors simply looking to stake on www.PegHub.com.