In today's BOMBshell Monday:
We're ready to get your grandma into PegHub – App improvements and videos are here!

 

Don't like taxes?  Have your say!

 

Peg tokens with intrinsic value? Wait 'til you see what we're cooking up!
Get your grandma ready!  PegHub is getting her into crypto. 
Our long-term goal continues to focus on breaking down the barriers to entry for the masses.  This means simplicity and consumer trust are integral for the success of PegHub.  In order to achieve our goals, we have numerous plans that will help with both ease-of-use and trust.  We want you to be able to send your grandma to PegHub and have her investing in our farms within 10 minutes.   
The first part of our plan is coming to you this week!  We've worked hard on our new redesign to not only make the PegHub app as easy as possible to use, but also to offer some unique features that are not found in the DeFi world and that will make people used to the traditional banking experience more comfortable with our app. Here's a small sneak peek of what to expect from the new PegHub! 
Additionally, we are creating a series of 30 to 60 second how-to videos for every step of the PegHub journey.  No matter how simple we can make it to get into crypto, we know that some people still want to have their hand held – and that's OK.  That's what we want and that's what we're ready to do! 
Expect the new PegHub app and the video series to start rolling out this week!  Here's a sneak peek: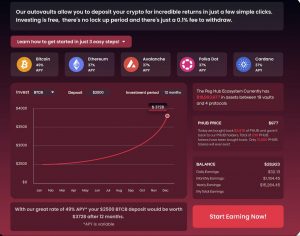 Does that mean we're ready to ramp up marketing? 
Exactly!  Now that we feel we will be able to convert visitors at a much higher rate, it's time to crank the dial up even further on our marketing efforts.  It all begins with an AMA with one of the biggest names in crypto, James Pelton.  James will be covering our updated PegHub app, along with the entire PegHub Ecosystem, to his 50k subscribers of avid and eager crypto investors.  The live AMA will take place on his YouTube channel September 15th at 1pm – this gives us enough time to ensure the successful deployment of all our improvements and our new video series so that his audience, and everyone that subsequently watches the AMA, have the best PegHub experience possible! 
You've also heard about our upcoming live event, the WEB3 & Blockchain World, in Toronto on November 8th and 9th.  This has now been confirmed and you will be able to see PegHub on the official sponsor list alongside companies such as FedEx, CryptoRunner, IOHK, Canadian Blockchain Association for Women, and more by Wednesday, Sep 7! 
This also means it's time to really ramp up our advertising on both crypto and traditional sites.  After millions of impressions and driving tens of thousands of visitors to our various sites, conversions were lower than we projected.  As mentioned earlier, we strongly believe that all of our improvements will convert visitors of all types and are readying our campaigns.   
Get ready to see PegHub everywhere, and get ready to see our protocols back at peg! 
Vote to reduce taxes across PegHub+ Advanced protocols  
If you don't like taxes now's your chance to have your say! 
As most of you are aware, taxes are in place for our PegHub+ Advanced protocols bitBomb, CZPegs and SnowPegs for selling or transferring peg tokens while below peg. Although implemented at the request of our community, after an extended period of challenging market conditions, we've seen increased feedback from investors that they feel taxes are too high.  
The current rates are shown below: 
Protocol

 

Tax

 

Burn 

 

Total

 

CZPegs

 

10%

 

15%

 

25%

 

bitBOMB

 

15%

 

15%

 

30%

 

SnowPegs

 

7.5%

 

7.5%

 

15%

 
Between the aforementioned improvements, marketing plans, upcoming roadmap items, high-profile events, and active discussions underway surrounding private investment, I am incredibly confident we will get to peg and beyond. Let's not forget that it will only take around $500,000 directed across our peg tokens to return all protocols to full health and when we reach peg it will be liftoff for our share tokens. We know the majority of our investors are here for the long term, but recognise some may want to leave and feel high taxes are preventing them from doing so. We don't want anyone coming for the ride to the moon Pluto who doesn't want to be part of the journey. What we have coming between now and the end of the year will surprise even our strongest supporters. Therefore, we feel it's only right to propose a governance vote to reduce or remove taxes. 
The vote will have 3 options: 
Leave taxes as they are

 

Reduce taxes across all PegHub+ Advanced protocols to 10% (5% burn + 5% tax)

 

Remove taxes across all PegHub+ Advanced protocols. 

 
The PHUB holder snapshot will be taken on Tuesday, September 6, at 21:00 UTC.  
There will then be a formal 24-hour window for community discussion starting 21:00 UTC, September 6. 
The vote will be open for 24 hours starting September 7 at 21:00 UTC.  
Final week of bitBOMB migration  
Many people, including myself, were left disappointed with the bitBOMB launch and migration. This was largely due to us prioritizing our existing investors and giving them an opportunity to make them whole, but it unfortunately did not work out as intended. Most looked for short term gains at the expense of the protocol's health, and the expense of their fellow bombers. 
As we always always look forward to what we can change and learn from our mistakes, we feel now is the time for migrations to end.  After allowing a month of migrations, in order to protect the funds of our investors and the health of our protocols, we will continue to allow migrations until September 12th.  
Need more reasons to be bullish?  The vision for our peg tokens! 
Central to achieving our mission to become the largest & safest staking protocol in the world by 2025 is launching our fully transparent, decentralised staking platform on our own blockchain. This is the ultimate item on our current roadmap, set for release in Q3 2023. 
We're continuing to make great progress in shaping our implementation plans and advancing discussions to accelerate the delivery. Through these discussions, a hugely exciting opportunity has emerged: to provide our investors with the ability to bridge their tokens from our platform to supported networks, providing an intrinsic 1:1 peg.  In other words this would effectively set the floor price of any of our peg tokens at 1.0 peg, creating an arbitrage opportunity anytime under peg. 
The specifics of this are still being worked through, but with every passing day I become more certain that even with conservative projections, this can be achieved. 
I have always prioritised delivering value for our investors above all else, and I'm certain those who believe in our long-term vision will be very glad of this in the months and years to come!  The opportunities our staking platform and blockchain provide are truly endless! 
Even with the crypto bear market persisting, I've never been more bullish.  PegHub is ready for the bull run and when it comes, all the work we're putting in now will pay off exponentially! 
See you on Pluto. 
Aaron